Let's face it, emerging trends from the COVID-19 pandemic has meant that consumers are hitting the online stores and shifting away from brick and mortar. With consumers feeling increasingly comfortable with shopping online, people who were once dinosaurs with the concept of online shopping are now becoming seasoned pros.
IMRG provided data showing online sales grew by 36% in 2020, which is the highest growth seen in the past 13 years. Grocery saw the biggest growth online. In 2020, there was an increase of 5.7 million households shopping for their Christmas groceries online in comparison to 2019. But non surprisingly, overall supermarket sales have increased throughout 2020, which perhaps is due to consumers shopping less frequently and in bigger quantities.
| | |
| --- | --- |
| Skin-care, hair-care, and bath-and-body products appear to be benefiting from self-care and pampering COVID trends. The beauty industry in the UK is now worth £27 billion [as of 2020] and ranks as the seventh-largest cosmetics market in the world. While it is idealistic to assume that the growth pattern will continue, it is difficult to confidently predict what's to come. | |

"There is some serious pent up "shopping frustration" out there. I believe that we will see a big return to brick and mortar for the spring and summer. Online retail has always been about price, convenience and the illusion of choice. But most consumers will be buying what they trust because they can't touch and smell new products like they can in-store. But when the nights draw in and with the worry of COVID returning in the winter; it is likely that consumers will revert back to online and once again shy away from the big high streets."
Andrew Klimcke, SIAN Wholesale's Managing Director
Effects on brick and mortar stores
The growth of the online movement has meant having a space in store for your brand in brick and mortar stores has become increasingly competitive.
During the first wave of the pandemic, supply chain shortages led to supermarket chains reducing their SKU counts. While there are concerns amongst suppliers that ranges will shrink permanently, it wouldn't be surprising to see a reduced range of products in our stores.
We've had growth and remained profitable without these SKUs so do we need them to go back?
But here there are two contradictory forces at play. The need to provide consumers with the appearance of choice versus the ever-greater need to focus on reducing price and the need to simplify operations. It's not unexpected to see current beauty lines in stores that comprise mainstream, household brands.
Here at SIAN, we are anticipating potential changes in supply chain demand.
Effects on independent online retailers
While this online boom isn't all too surprising, it isn't the only noticeable change in customer behaviour.
With brand loyalty and choice in stores diminishing and with community spirit harnessed, growing trends to support local and independent traders means consumers are more easily straying from their everyday essential retailers and opting to shop smaller online boutiques.
Amazon's Net Profit Soared 84% With Sales Hitting $386 Billion in 2020


In early 2020, Amazon reduced click to door time from 3.4 to 2.2 days (the industry average is 5.1 days).
This boom has provided opportunities for new business. For sellers, the online market comes with the expectation of extremely fast order fulfilment. This speed is becoming a key battleground. It's the age-old supply chain phenomenon – Right Stock. Right Place. Right Time. With online retailers grasping to keep up with evolving demand; the uncertainty around consumer behaviour and product offering, alongside large MOQs, can easily lead to an excess of inventory.
At SIAN Wholesale, we are working hard to adapt to this online shift. Many new customers we've gained throughout the last year have been online shops, Amazon and eBay sellers. This online territory brings the need for small lead times, small MOQs, and a consistent supply of original and fresh new products.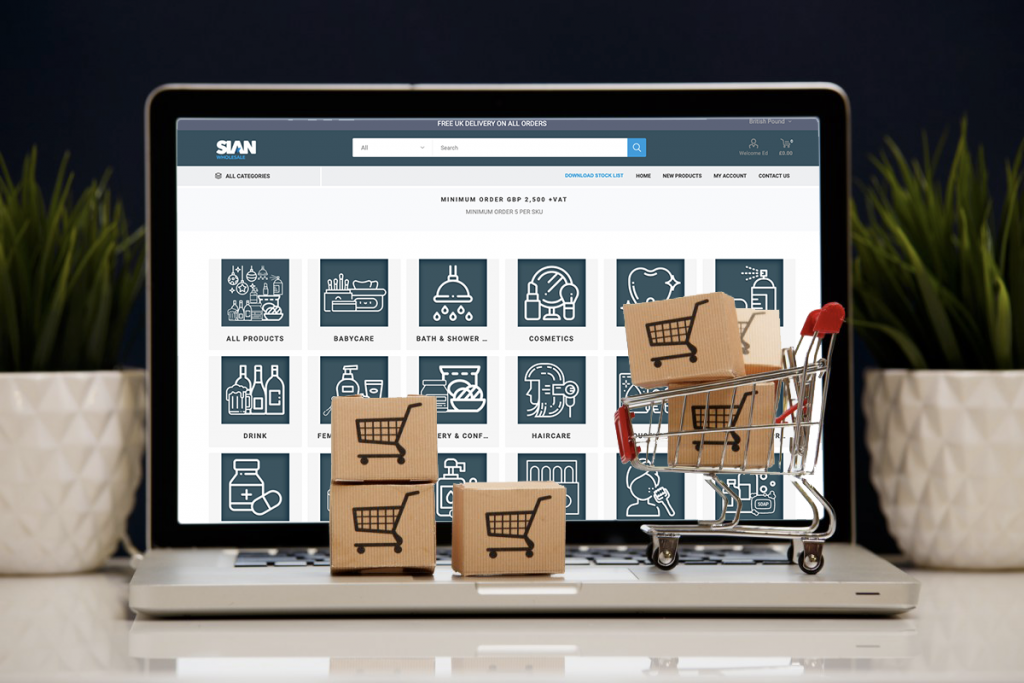 SIAN Wholesale's online shopping portal

Whilst you're here, why not check out our previous article The Roadmap: A reflection of the past year?
With our online portal, it's now easier than ever to browse our product range on your desktop or mobile. Repeatable orders can be placed with a click of a button. We are always happy to help over the phone too.
We always have your order ready for delivery in 72-hours and we work with low MOQs to allow you to purchase for your demand and explore new stock line options.
Check it out for yourself or get in touch via our website.